<![if !vml]>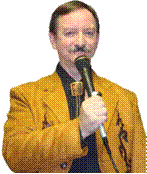 <![endif]>                        
       Ron Levesque
Charlie Trapp started and is continually teaching me how to improve my calling. I also attended the 2007 Northeast Callers School the calling staff included John Marshall (2008 callerlab chairmen), Anne Uebelacker, Norm Poisson, and Ken Ritucci. The 2008 school includes Randy Dougherty and Todd Fellegy. I joined Old Colony Caller's Association in 2007 and this year serving as vice president. I have also learned by attending the OCCA meetings. I have occasionally been invited to call a tip at various club dances, at SEMCA, and our anniversary dance.
My start in square dancing began in 1972 My brother and I started taking classes at the Rochester Grange with caller Paul Letourneau. Our whole family was dancing at that time. I have helped in many classes with a variety of callers over the years.
I met Melanie in 1978 and married her in October 1980. We have two sons, Robert and Rene, both are now over 18. I introduced square dancing to her a little after we met and she has been an avid dancer ever since. We have been king and queen of SEMCA
We celebrated our 25th wedding anniversary by going on an Alaskan cruise after attending the National Square Dance Convention in Portland Oregon.
I started working for Texas Instruments, Attleboro in 1986 first as a toolmaker, then as a toolroom working supervisor. I now work in the metallographic and surface analysis technical service labs of Sensata Technologies Inc.(formally part of Texas Instruments.)
We have stopped dancing periodically in the 35 + years, but we have always come back. We dance from basic to A2.
I do Fun Nights and Call through Mainstream at this point in time